The final results of the CQ WW SSB 2022 contest have been released. Last October, a great team participated giving a very good effort during the contest. In fact, it was our best effort since the contest station was created at Redforest and our second-best overall.
Our best effort so far was way back in 2004. Propagation helping, we hope this year we can break our "cursed" record. But this year the effort was better in terms of rank, since we came 32nd in Europe and 57th in the world. We wanted to be higher, we believe we can be in the top 20 with a little more effort, but even so, it is not a small acomplishment. See below from where we started…
Operators were Sotiris SV1BDO, Makis SV1BFW, Dimitris SV1CIB, Manos SV1DAY, Andrew SV1DKD, Konstantinos SV1DPI, Vasilis SV1DPJ, Giannis SV1GE, Panagiotis SV1HKH and Panagiotis SV8PMM.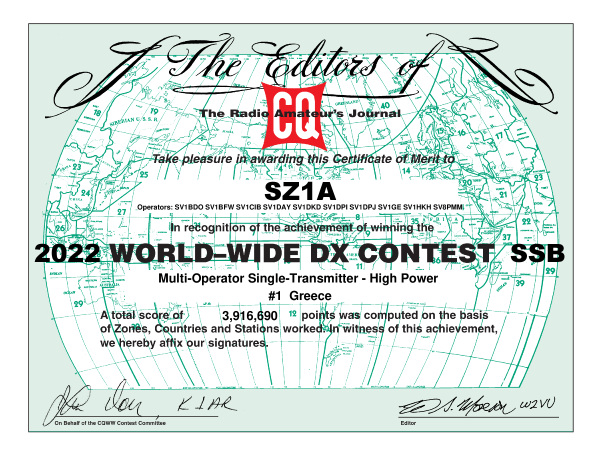 Many of them were also participating from the station a few days ago during CQ WPX SSB. Little by little we seem to be building a team whose core will participate every time and score well.
The SV record is much higher and more difficult to break without improving our station. It was made by a multinational team who ran as SY8A from the house of Spiros SV8CS in 2002. The propagation then was at its best (eg 15 meters was open all night), the logging programs said that they were working from Mount Athos (which favored them to get many stations), they had set up extra antennas, lots of power and among others in the team was Stefanos IK2QEI, one of the best operators in the world (not that the rest weren't good). If we can get close to that record, or even pass it, we need to do it in the next 2 years when the propagation will be good. Otherwise, we will have to wait around another 13 years!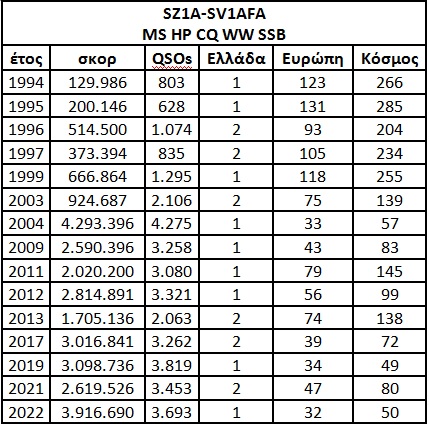 An estimate is that in this period of time, we can get a lot more from the inband station to get such scores, plus of course gathering good operators. Which is not easy when our logic is always in favour of spreading the idea of contesting and not chasing high scores. However, dramatically improving our antennas will be difficult in such a short period of time.
Our CQ WW SSB history as a Multi-Single participation (we did not participate every year as an MS) and with our previous callsign SV1AFA and current callsign SZ1A, is shown in detail in the table.
Additionally, our participation statistics, as we published them, can be found at the following address::
https://www.qsl.net/sz1a/sh5/2022/2022_cq-ww-ssb_sz1a/index.htm
All results are on the CQ WW site. The participation of 70 Greek stations is positively impressive!!! The results can be found here:
https://cqww.com/scoresph.htm