The final results of CQ WW CW 2019 have been published. Our final score is 4,778,427 points. This result gave us 1st place in Greece, 34th place in Europe and 52nd place in the world in the MULTI-ONE High Power category. Operators were SV1BJW SV1CDN SV1CIB SV1DKD SV5DKL SV1DPI SV1DPJ SV4FFL and SV1JG with the usual support group of SV1CQG, SV1CQK.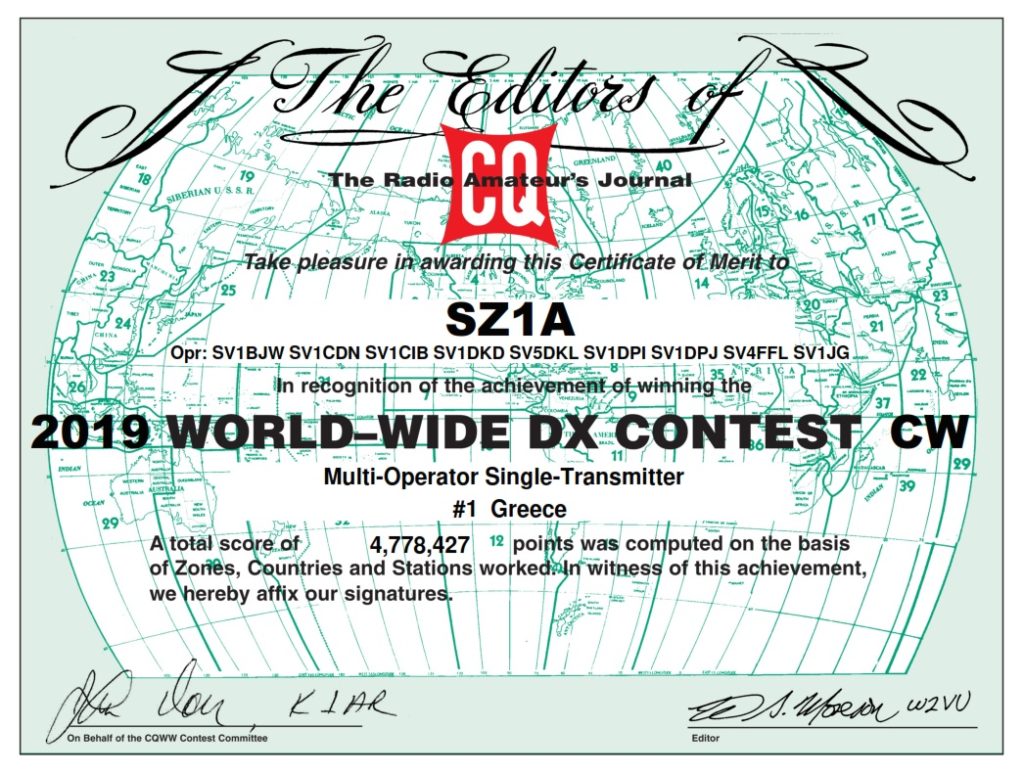 Judging by the result, it is true that we have done better. When we started the contest, we had a higher goal. Our feeling that we used the inband station better than ever is verified by the number of multipliers (733) that were very good, given the poor propagation conditions and the fact that 10m was closed. We achieved 866 multipliers in 2013 but then the 10m band was open. However, this time, we had the misfortune on Saturday night, of the stub for 40m failing. As a result, we didn't have an antenna for the 40m band all Saturday night as we thought the antenna was faulty. On Sunday morning we found the fault and it was fully repaired after the contest, but we managed to be operational on 40m again by Sunday night. This didn't deprive us of many QSOs since we did a lot on the 80m and 160m bands, but we lost a lot of points and multipliers.
All said and done, we certainly had a good time and the high-point of our efforts was the publication of the team's photo in the May issue of CQ magazine!
See all the results on the official CQ WW contest website. See you again next year!