A year has gone by since the destruction caused by the Storm ("Hepheastion"), and finally, we have some amazing news to announce! Maybe it was all the effort and hard work we've put into rebuilding and upgrading the station, and maybe it was just pure good luck… maybe a bit of both, who knows… What is important is that Santa Claus visited us this year with a full bag of gifts!
It all began last November, when Sotiris Katsimaglis SV1BDO suggested we run a fundraiser between our members in order to buy an amplifier. Almost always this is how we manage to purchase equipment since the finances of our club are minimal, even for the maintenance of the station. With the amount raised, we intended to replace the expensive Icom PW1 Linear Amplifier, and then sell it. With the money from its sale we intended to buy two used transceivers, in order to modernize the station.
That was the plan anyway….
Many friends rushed to join in, and, to our surprise, a substantial amount was quickly raised (and we thank each and every one of them). However, it wasn't enough on its own to finance the purchase of a brand new amplifier. Looking at the used market, we thought of turning to our good friend and supporter of SZ1A, Tibi Ferenec OM3RM of OM-Power. OM-Power had helped us again in the purchase of our first amplifier, offering us an amazing discount and actively supporting our station. Initially, Tibi did not have something available that we could purchase with the amount we had raised. This was in early December 2020, so we agreed to wait a bit, maybe our luck would turn…
A few days after the arrival of the new year and after the exchange of wishes, OM-Power finally had something for us. A OM2000HF Linear Amplifier in almost brand new condition, the exact same model that we already had and were extremely happy with, was available. With the help of OM-Power, we contacted our new friend Jef Claes DD2CW / ON4ACA who was responsible for the sale of the amplifier. After reviewing the SZ1A project and our effort to make a contest station available to everyone, in order to promote radio-sport/contesting and amateur radio, Jef provided us a quote for the amplifier.
Jef placed his faith in us, which deeply honors us, and immediately became part of our team! Believing in the SZ1A project he offered his support in many ways
Jef placed his faith in us, which deeply honors us, and immediately became part of our team! Believing in the SZ1A project he offered his support in many ways: In addition to facilitating the purchase of the amplifier at an excellent price which was within our budget, he donated his personal radio, a Yaesu FT1000MP MarkV Field, and, a Microham MKII keyer along with the necessary radio cable. Essentially together with the amplifier, he donated an entire station as a gift. All this in memory of his good friend Marcel Sterkens ON6UQ, who recently passed away and to whom the amplifier belonged. Jef and Marcel had a similar experience to that of the SZ1A, at SI9AM which, unfortunately, recently ceased to operate. So he considered SZ1A a continuation of their previous joint effort. This made him believe even more in our project.
If this is not Santa Claus, who is? Does Santa Claus really exist in the end? Or is it true what they say that "if you want something very much, the universe conspires to make it happen"?
In honor of his gesture, we have dedicated Operating Position Nr.3 as the "Marcel Sterkens ON6UQ" Station.
The new gear was packaged, shipped on a pallet and quickly left Belgium for Slovakia to OM-Power headquarters with the help of Dirk Martens ON3UN and Roger Stymans ON7TQ, whom we both thank very much.
Tibi and OM-Power tested the amplifier, gave the GREEN Light and after sending the money to Marcel's family, the amplifier and transceiver made their way to the SZ1A. Jef had already shipped the MicroHAM MicroKeyer MKII earlier.
In honor of his gesture, we have dedicated Operating Position Nr.3 as the "Marcel Sterkens ON6UQ" Station.
On March 12, a long journey that began earlier this year came to a happy end. All equipment had now arrived. OM-Power had made sure to put in some extra goodies including two t-shirts and two hats with their logo, one for each OM-Power amplifier we have! We will probably get a third t-shirt soon…. hint-hint… hi! hi!
It is very important for us that fellow hams believe in us and that the SZ1A project inspires others. This is the true recognition of our work, our faith but also our perception of the Amateur Radio hobby (Ham Spirit!!!). We do not believe in misery and whining but in creation & innovation. This is what inspires and guides us.
Of course, we are now waiting for the Covid-19 Pandemic to pass and for Jef, Dirk, Roger and Tibi to come and visit us with their friends, to host them and to participate all together in a contest, in our unique SZ1A tradition: Round the clock BBQing and DXing/Contesting up in the mountains in nature with friends! What else could one want?!
We must not forget to thank all the friends who, in difficult economic times, literally offered from their hard-earned finances, funds to buy the amplifier (in callsign suffix alphabetical order):
Cliff Sakalis SV1JG
Tasos Achtsis SV2AOK
Sotiris Katsimaglis SV1BDO
Dennis Drakopoulos SV1CDN
Kostas Karakostas SV1CQN
Andrew (Andy) Georgakopoulos SV1DKD
Stathis Maliakis SV5DKL
Kostas Stamatis SV1DPI
Vasilis Kontothanasis SV1DPJ
Costas J. Dovas SV4FFL
Vasilis Koukoutsis SV1JMC
Giannis Martsoukakis SV1PMQ
Theofilos Maglousidis SV2SCB
and two more friends who wish to remain anonymous.
With all that has been implemented at SZ1A lately (MOAS II, rotors, shack organization, taller towers, new antennas, new radios and amplifiers, etc.) we have even more reasons to stay safe, take care of our health and after all this situation we are experiencing, to be able to return to the "land of lotus eaters" for new adventures. Patience comrades!
Our New Equipment
OM Power OM2000HF Linear Amplifier
The OM2000 HF linear amplifier from OM Power is a heavy-duty powerful 2KW+ Contest Grade Linear Amplifier designed for all short wave amateur bands from 1.8 to 29 MHz (including WARC – bands) and all modes. It is equipped with a ceramic tetrode GU84b.
OM2000HF Linear Power Amplifier Features and Specifications
Frequency coverage: amateur bands 1.8 – 29.7 MHz including WARC
Power output: 2000+ W in SSB and CW, 1500+ W in RTTY, AM and FM
Driver Power: usually 40 to 60 W for full Output Power
Input impedance: 50 Ohm VSWR < 1.5 : 1
Output amplification: 17 dB
Output impedance: 50 Ohm unbalanced
Maximum output SWR: 2:1
SWR protection: automatic switching to STBY when reflected power is 350W or higher
Intermodulation distortion: 32 dB below nominal output
Suppression of harmonics: < -50 dBc
Tube: GU84b Ceramic tetrode
Cooling: Centrifugal blower
Power supply: 1 x 230 V – 50 Hz one phase
Transformers: 1 pc of toroidal transformer 2,5 kVA
Dimensions: 485 x 200 x 455mm (width x height x depth)
Weight: 28 kg
Protection circuits:

SWR too high
Anode current too high
Screen current too high
Grid current too high
Mistuning of power amplifier
Hot switching protection
Soft start for protecting your fuses
Cover interlock for power-on protection
Fully fused supply

Bar graph indications:

Power output
bargraph 50 LED
Reflected power – bargraph 20 LED
Current at screen ( Ig2 – bar graph 10 LED )
Anode voltage, anode current, tuning – bargraph 30 LED

LED indicators:

grid current ( Igl – 2 LED )
WAIT – preheating of tube (180 sec )
STBY– standby
OPR – operating condition
FAULT – failure, switching off for abt. 2 sec

YAESU FT-1000MP Mark-V Field HF Transceiver
Features
Dual Receivers
Class A PA Operation
Integrated Shuttle Jog Control
10 Pole Collins Mechanical Filter
Manual and DSP Auto Notch
12 VDC Operation
Built-in AC Power Supply
Enhanced DSP
13 Tuning Steps
Manual and Auto AGC
The legendary Yaesu FT-1000MP Mark-V Field is the latest member of the proud FT-1000 bloodline. The Field version brings this leading edge technology in a 100 watts, self-contained design. The AC power supply is built in. Or you may also operate this transceiver from 13.8 VDC. This radio also features a built-in high-speed automatic antenna tuner capable of matching loads between 16.5 and 150 ohms to better than 1.2:1 SWR. Our tranceiver has a 500Hz filter for CW/RTTY and a 2KHz filter for SSB. This radio includes the MH-31B8 hand mic.
microHAM microKEYER II – Radio-to-PC Multi-use Interface
The microHAM microKEYER-II is a highly integrated station controller which supports all modes. Regardless whether you do phone, digital modes or CW – the microKEYER-II supports you.
The integrated USB sound card has various advantages: first it does offer a much better signal to noise ratio than the most internal soundcards; second it has a much wider dynamic range. Both is very helful for improved decoding of weak signals. And additonally the internal soundcard remains free for it's original purpose (system sounds etc.). And you have only one cable between the interface and your computer – everything, also the audio is carried by the one USB cable. The integrated USB soundcard of the microKEYER-II has two audio channels and supports both main and sub receiver of some radios.
Besides the well known features like a universal CAT/CI-V interface, sequencer control for PA and LNA keying, support for foot key PTT, connection for an optional PS/2 keyboard, K1EL WinKey chip for precise CW keying, the microKEYER-II offers some very interesting features:
The LC display is widely configurable and shows for example the sent data in CW and RTTY, or the current CW speed, or the current frequency of the transceiver. Very helpful while configuring the device and also during the DX work.
One additional CI-V connection, which works in parallel to the usual CAT interface, allows for a very easy integration of other Icom devices like the Icom PW-1 power amplifier. Even if the transceiver is not by Icom!
A further additional serial port (ILink) allows the seamless integration of other devices, like the SteppIR or Ultrabeam antenna controller or a automatic antenna tuner – very useful.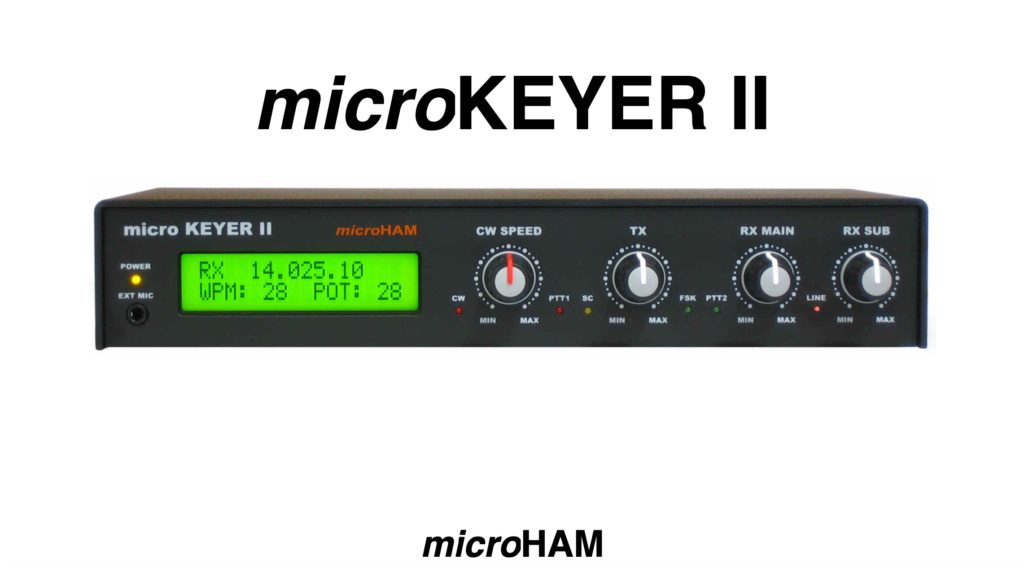 microKEYER-II Features
Audio
Integrated USB soundcard with high dynamic range and excellent SNR for better decoding
Two audio channels for Main/Sub receiver
Newly designed microphone matching allows the use of nearly any microphone
two microphone connections supported at the same time (e.g. hand mike and headset)
Simplified control and selection of audio sources
Continuously adjustable microphone gain, separated for two microphones
Automatic selection of microphone
Output power of the soundcard sufficient to drive a headset, for Echolink, VoIP, Skype etc.
2 Watt amplifier for connection of a monitor speaker
Separate volume control of the monitor for CW sidetone, DVK and AFSK
Display on the front shows status (recording, playback) of the soundcard
Automatic microphone muting when using digital modes
Keying
Sequencer control for LNA/PTT to switch a separate pre amplifier or receiving antenna
VOX support for PA keying
Direct support for QSK operation with PA
Digital VOX: automatic PTT keying when audio is sent over the soundcard
TX inhibit for hotswitch protection ad transmitting under critical conditions (transmit path not ready)
Faster (3ms) keying relay
Telegraphy
K1EL Winkey Chip for precise timing of keying
Integrated, high level paddle debouncer/interface
Visual indication of keyer speed
Optional 'paddle only' sidetone
Display of transmitted CW characters
Integrated contest serial number
Supports PS72 keyboard or numeric keypad for memory recall
FSK & Digital
Low noise/high gain audio chain with independently controlled line amplifiers for unbeatable weak signal decoding
Automatic sound card line input select for digital modes
Transmitted data display (FSK RTTY only)
Other functions
Customizable, two line LC display with adjustable backlight
Separate power jack with power monitoring
Separate On/Off switch
CI-V output with simulated Icom 'transceive data' when connected to a supported radio allows use of IC-PW1 with non-Icom transceivers
Proprietary serial port (ILink) simulates antenna/tuner control protocols (support for SteppIR, Ultrabeam, antenna tuner)
FH-1/FH-2 or equivalent keypad for memory control
Uses the same DB37 cable sets as microKEYER
THANK YOU TO
Jef ON4ACA / DD2CW
OM Power & Tibi OM3RM
and ALL of our Supporters