You may remember that our 3rd and largest Tower which housed our 40m beam, had fallen victim to an extreme storm. You can read more details of the disaster earlier this year here (Greek)
From the beginning of the year, when this happened, we worked hard to restore the tower, and make it better. Unfortunately, the pandemic of covid19 delayed us. But it did not stop us from moving forward.
The results are starting to show ….
Already, SV1CQN had worked hard to adapt a new 13m tall tower section constructed by SV1KYX, kindly donated by SV1DPI (along with Yaesu's rotor and bearing), to the existing construction of the 3rd tower. So we would add another 12 meters to the existing 11 meters (one would be lost in the joint) and we would have a 23 meter tall tower.
Adding the 1.5 meter mast we will have our beam antenna up at 24.5 meters high!!!
Working on the plan, 2-3 more desires were born. Let's take them in order: First of all we wanted to have an antenna that was pointing permanently towards Europe & North America, so that when our main beam is pointed towards Japan, we can immediately (via a switch) turn and listen to / answer a call from there. So we placed a mount at 11 meters high, able to accommodate a Mosley beam antenna that we have, and, we will even be able to rotate it from Japan to Europe. So when our main antenna points at Europe, we will be able to immediately switch to Japan and vise-versa!
The second thought we had was to feed the tower as a shunt fed antenna for the 160m band! We had tried an Inv-L before and it didn't really satisfy us. So we thought, since the tower would be tall enough, to give this design a chance.
So we put the required rigging in place in order to accommodate the wire to feed the tower for 160m. To this end, we decided to change the layout of our antennas and put the 4 element 20-meter beam on top of this tower, in place of the 2 element 40m beam. So we will have a larger antenna as a capacity hat, but also more freedom since 40m and 160m may have to work simultaneously, while the 20m and 160m is unlikely.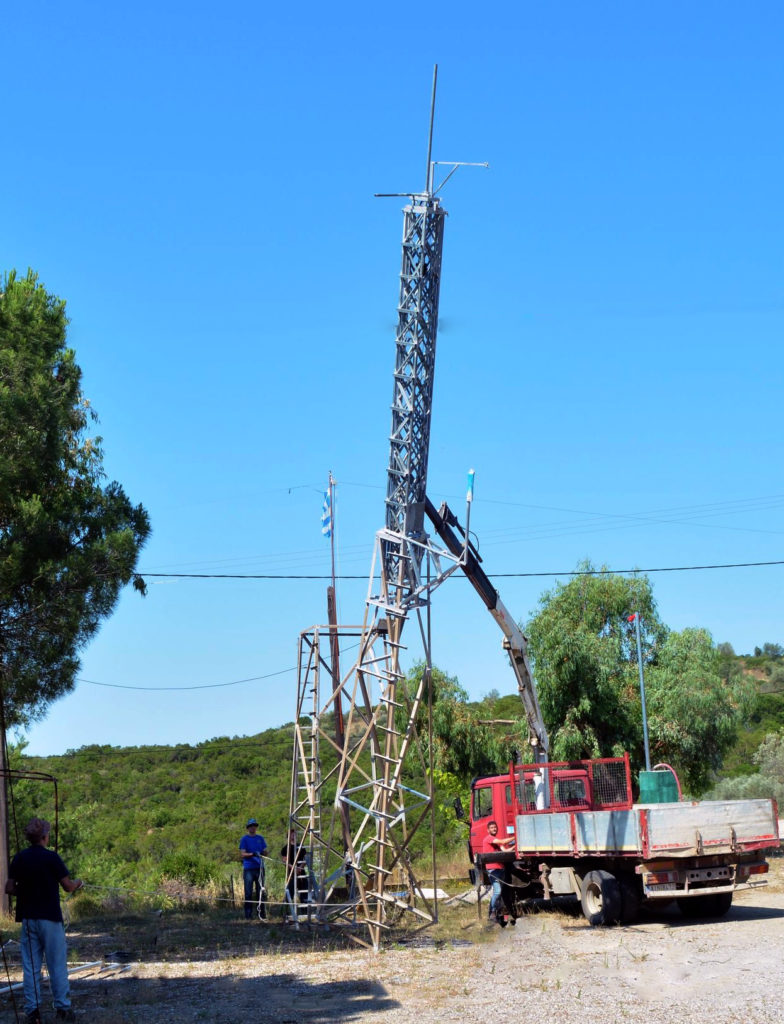 The third thought was to raise the Greek flag as high as possible and that's why we installed a corresponding ring for this job!
The whole project was delayed due to the pandemic crisis and although the tower was ready for installation in April, we could not complete it. Finally, on Sunday, June 28, 2020, with the help of Mr. Dimitris Andronis, who, once again, provided us with his crane for free, and operator SV1HLB, we raised the tower to its final position.
There to help, in addition to SV1HLB, was SV1HKH, SV1CQK, SV1CIB, SV1CQG, SV1DPI. Watch the video of the final installation phase

You can also see the view from the video taken by SV1HKH from 17m high (with the telescopic part retracted) here:
There is still a lot left to be done: installation of steel wire, to take down, maintain and install the 20m antenna beam on its new tower, to put our flag up, but also to install the Mosley beam in the future and to feed the tower as a shunt fed for 160m.
But we have taken the first big step.
And we hope our signals have significantly improved…